Second page all time. It's going places :)
Lol someone doesn't watch Seinfeld
I'm in the US, specifically California, in the schools, at least in my district, there was a fire extinguisher in every few classrooms, so if there was a fire, you would have to run out to another room or just get out as fast as possible.
Why would I have daddy issues because I believe in self-defense, self-initiative, and honesty? If you suck at a sport, you do not deserve a trophy. If you are weak, you will not prevail. If you blame your weakness on being "bullied", rather than standing up for yourself, then the issue will never be…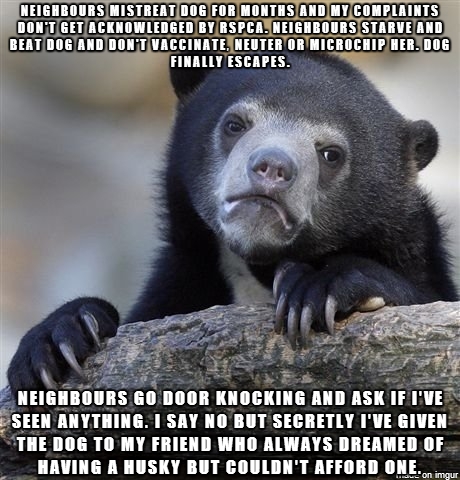 way to go OP, more people should take an active role in reporting abuse. My crappy neighbors had a white female pit would who would be left outside for 8 hours, i work from home and could hear her whine all day, in through the night to be let in because my computer is against the wall we share with …
That pretty much sums up what I meant.
Not to be that guy but it really depends on the situation, for example a number of mental conditions prevent you from generally being happy with no hope of recovery. This is out of context, suicide is selfish in certain contexts, and understandable in others. Either way it's tragic.